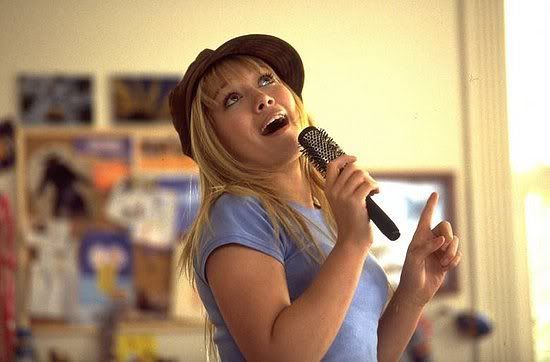 The Lizzie McGuire Movie | rel. 2003 | dir. Jim Fall
I can't hide my love
The Lizzie McGuire Movie.
So I won't. The quote on the subject line accurately describes how I felt while I watched the film.
I was about nine or ten when
Lizzie McGuire
first hit the small screen. I was obviously the target age group the show. There were girls at our school who saw popularity as a prize, who cared about what they wore, who liked to drizzle themselves in cherry-flavored lip gloss, and had a heavy intuition of what's hot or not through their subscription of "Seventeen" magazine. (Yes, these girls were, in fact, nine or ten years old!) So they related to Lizzie, who was very much like your everyday junior high school gal who dealt with the pressures exerted by school, friends, and family. Lizzie's animated counterpart, however silly, spoke great volumes of truth to what's going inside the mind of a eight to twelve year old.
But the great appeal that Lizzie had was that she was self-conscious, insecure, and uncertain about herself. That, I certainly could relate to--back then, and even now.
When the film came out back in 2003, I no longer kept up with the show. But I was always curious about it because who doesn't love looking at lovely Roman scenery? Watching the film was like a journey to satisfy my grand curiosity--in a less poetic sense, of course.
In the film, Lizzie (Hilary Duff) graduates from junior high and for her summer vacation, she gets to take a school trip to Rome. Guided by the sternly tough Miss Ungermeyer (Alex Borstein) and accompanied by a few familiar faces--Gordo (Adam Lamberg), Kate Sanders (Ashlie Brillault), and Ethan Craft (Clayton Snyder), Lizzie is off to Rome where adventures await.
After a toss of a coin into the famous Trevi Fountain, Lizzie turns around to find a
Godfather
-extra-who-is-supposed-to-be-hot-in-the-context-of-the-film (Yani Gellman) right in front of her very eyes. He turns out to be nothing less than an Italian singing sensation named Paolo. And he wants Lizzie. No, he
needs
Lizzie. You see, Paolo's singing partner, Isabella, looks just like Lizzie! And Isabella's at some island because she wants to break up her partnership with Paolo! So Lizzie has to be Isabella for a few days so the record company won't sue for Isabella's abandonment! And no one will ever know about this!
In order to spend time with Paolo, Lizzie plays sick to Miss Ungermeyer so she can sneak out during the day, with the help of her faithful lovesick puppy slash loyal friend, Gordo. While all of Lizzie's classmates are on a dull little tour bus, Lizzie gets to ride on the back of an adorable Vespa with a guy she finds cute (I may differ) driving and showing her around Rome.
Vespa? Nice
Roman Holiday
reference there.
The Lizzie McGuire Movie,
like other romantic comedies (like 1994's
Only You
(I think that was Venice...) and the TV movie,
Sabrina Goes to Rome
) that take place in Italy, is not shy from referencing or ripping off
Roman Holiday,
the greatest romantic comedy ever filmed in Rome and perhaps even the best romantic comedy ever. In many ways, the basic formula of
The Lizzie McGuire Movie
and
Roman Holiday
is very much alike...
In
The Lizzie McGuire Movie...

Lizzie goes to Rome
Lizzie is not satisfied with her trip because she can't hang out with an Italian pop sensation
Lizzie pretends she's sick in bed but instead, sneaks out to see the Italian pop star, Paolo
Paolo wants to take advantage of her since Lizzie looks exactly like his singing partner, Isabella
Paolo and Lizzie ride a Vespa around Rome

Lizzie falls in love with Paolo
In
Roman Holiday...

Princess Ann goes to Rome
Princess Ann is not satisfied with her trip because she has to do all her royal duties
Princess Ann is given a sedative by a doctor, but she sneaks out afterwards
Joe Bradley finds Princess Ann and wants to take advantage of her since she's a princess and he can write a hit article about her
Joe and Princess Ann ride a Vespa around Rome
They fall in love
The comparison ends there.
Roman Holiday
is certainly more of a tearjerker than
The Lizzie McGuire Movie
. Of course,
Roman Holiday
is still vastly superior. But honestly, how many eight year old girls want to see an old black-and-white film?
But back to our friend Lizzie.
So Lizzie's sneaking around Miss Ungermeyer with Gordo saving her from trouble. She gets closer to Paolo and realizes that he's really a nice guy since he gives her the opportunity to enjoy the good life. You know, fame, food, clothing, make-up artists... Sure, Lizzie's being a little materialistic there, but the film's target audience would never care.
The target audience cares about their beloved Lizzie McGuire. She's the girl they relate to and she's the girl they love. Lizzie McGuire was the Hannah Montana of yesterday. That said, Hilary Duff was the Miley Cyrus of yesterday. I think both Duff and Cyrus are extremely likable actresses, especially as their famous characters. Like I said in the
comments section of James's blog
, Duff has a likable screen presence. Perhaps at the time of the comment,
Agent Cody Banks
may have slipped my mind since the idea of finding anything likable in the movie at all is completely blasphemis, but in general, Duff has always been impressive as Lizzie. Duff's no Audrey Hepburn but she owns the character of Lizzie like no other actress imaginable. Duff proves it again in the film version of the series.
The things I liked about this movie definitely outweighed the things that didn't quite work. The opening sequence is rather awkward, since Lizzie's younger brother Matt (Jake Thomas) seems to be filming his sister as she changes her clothing as blackmail. I mean, what kind of brother wants to watch his sister change? The parents--played by Hallie Todd and Robert Carradine--add nothing to the movie, really. But it was nice seeing them in the movie anyway.
I never expected a romance between Lizzie and Gordo; it always seemed like Gordo and Miranda to me. Speaking of Miranda, I was rather glad that Lalaine, who portrayed Miranda in the series, did not participate in the film. With Miranda there, I do not think the Lizzie-Gordo relationship would have worked as nicely. Sure, Duff and Lamberg may lack romantic chemistry, but their storyline is undoubtedly well-executed.
The Lizzie McGuire Movie
may be completely predictable and silly but it is nonetheless, delightfully sweet entertainment. I am well-aware that the film has a 4.8/10 rating on IMDb and a 40% fresh rating on Rotten Tomatoes, but this movie wasn't made for those regular IMDb voters or those film critics. It was made for the fans of the show, who were about eight to twelve at the time. Although I think every film
should
aim to please everybody, not every film
is
made to please everybody. Fortunately, this film pleased me. It's fun fluff, pure and simple. The film doesn't have half the brilliance of
Roman Holiday,
but it has a likable heroine and enough cutesy pop tunes to satisfy young girls. To answer the previous question I stated: If your eight year old girl is unwilling to see the black-and-white 1954 classic
,
then
The Lizzie McGuire Movie
is a solid alternative. It is 50% rip-off, but also 50% charm.
Rating: 8/10