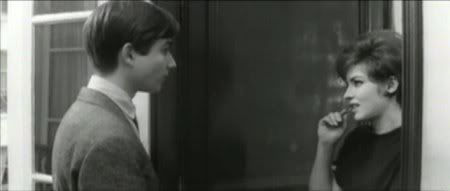 Antoine and Colette (Antoine et Colette) (short) | rel. 1962 | dir. Fran
ç
ois Truffaut


Spoilers. You've been warned.
I am fascinated by the idea of unrequited love. It's the longing, the desire, and the temptation that make love stories so interesting. For all those emotions to go on without a definite end is quite depressing--but strangely romantic and interesting, especially as portrayed by popular culture. Love itself is already a complex subject, but unreciprocated love might as well take a life of its own.
For those reasons, I fell in love with
Antoine and Colette
. Francois Truffaut's short film chronicles the late teenage years of the young protagonist in
The 400 Blows
. The short was originally part of a commercially unsuccessful collection of short films by other French directors,
Love at Twenty.
While other shorts in the anthology have become rare and unpopular,
Antoine and Colette
survives.
Antoine Doinel (Jean-Pierre Léaud), who was last seen on a beach after running away from the observation center, is now seventeen years old and working at Phillips, a record company. The voice-over narration tells the audience that he was sent back to the observation center after his escape and was sent to another center with stricter surveillance. With the help of a psychologist, he was able to leave the center and live independently, like he wished. He is passionate about music and frequently attends concerts. One evening, he attends a concert with his old friend René (Patrick Auffay), a glamorous young woman, Colette (Marie-France Pisier) catches Antoine's eye.
Antoine desperately seeks Colette's affections by trading records and books with her, taking her to concerts, moving across the street from her
(obsessive much?)
, and even getting close to her warm, welcoming family. All his efforts are eventually worthless and what is left is the broken heart of a young man who has nowhere to hide from the confines of personal humiliation.
All the emotional endeavors, believing, and dreaming for nothing? That happens and it sucks. Big time.
Even with the pangs of the distortion of young love,
Antoine and Colette
is a work of superb charm and warmness. Truffaut, perhaps recalling his own experiences of the disappointments of young love, films an even more intimate portrait of life than
The 400 Blows
. Both Léaud and Pisier are attractive young actors who deliver very natural performances. Surely,
Antoine and Colette
is not better-made than the previous Antoine Doinel adventure, but it has a certain youthful energy and bliss injected in every frame that is extraordinarily touching. But the film keeps in mind that youth is brief and breezy--and so is the film itself.
I am completely, utterly in love with this lovely film.
Rating: 9.5/10
----
The entire film has been uploaded on YouTube:
Part 1
,
Part 2
,
Part 3
(The video is a tad bright and has several sound problems throughout but it's totally worth twenty-nine minutes of your life.)