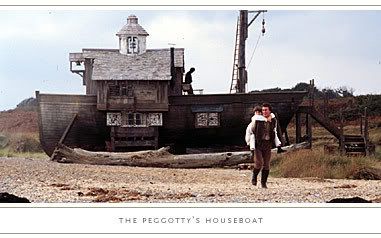 David Copperfield | rel. 1999 (TV) | dir. Simon Curtis
Spoilers. (Kinda.) You've been warned.
For those who immediately think of David Copperfield the magician, that is very depressing. Charles Dickens's
David Copperfield
is one of my favorite books of all-time. It is a touching coming-of-age story of a young boy trying to survive in Victorian-age London and eventually learns to discipline his heart. It is only when he can control his mind and heart that he finds success and happiness in his life. Goodness, I love this novel.
Like many of Dickens's novels,
David Copperfield
is blasting with the style of Dickens on every single page. The author himself regarded
David Copperfield
his personal favorite from all the books that he wrote and many consider it as his most autobiographical. I believe that Dickens loved
David Copperfield
so much that he even recycled bits and pieces of it for his darker, somewhat Gothic
Great Expectations.
Personally, I think
Great Expectations
doesn't even come close to the artistic mastery of
David Copperfield
.
Being someone who loves
David Copperfield
, I obviously could not withhold myself from a film version.
Recently, I watched the BBC production of
David Copperfield
. The first part is very good. Not as inspirational or touching as Charles Dickens's words are in the novel, but it is certainly in the range of "good enough." There is a fabulous performance by a young Daniel Radcliffe (who is best-known as Harry Potter), who is sweet and innocent but incredibly courageous and full of adventurous wonder. No wonder some guy from WB saw it and thought, "This kid would make a
fine
Harry Potter." Unfortunately, his work in the Harry Potter films are only slightly mediocre, although he is improving in each film. Meh, I don't care much for Radcliffe's current career, honestly.
There are some very memorable supporting performances, by Bob Hoskins (whom I swore wasn't British since he was totally American in
Who Framed Roger Rabbit?
) as the funny and hopeful Mr. Micawber and always-wonderful Maggie Smith as Betsey Trotwood. Smith is nothing less than excellent as David's Aunt Betsey. She just nails the character, fair and square. The scenes where she is shooing the donkeys away is pure comedic perfection, just like it is on print. Imelda Staunton put in some great notable effort as Mrs. Micawber. I've never noticed how beautiful Staunton is since her convincingly toad-like performance of Professor Umbridge in
Harry Potter and the Order of the Phoenix
is basially the Staunton that I remember.
Trevor Eve and Zoe Wanamaker are truly frightening and Mr. and Miss Murdstone. It is so freaking obvious they killed David's mother. They look like the devil's accomplices. Emilia Fox definitely evokes the sweetness of David's mother. Pauline Quirke is very likable as David's nurse, Peggoty. I think the whole Peggoty clan is quite well-casted. Maybe with the exception of Emily. Emily is supposed to be drop dead gorgeous and the curly-haired girl looks sweet and all, but
not
the revolutionary beauty I imagined her to be.
That scene where David flies a kite with Mr. Dick is beautiful. It is just like the book. The fantastic boat that the Peggoty clan lives in is simply magical and flawlessly interpreted onto the screen.
So I liked the first part of the film. The performance are all wonderful, mainly because of how well-casted everyone is. Almost just like how I imagined it, really...
Then comes the terrible second part.
Fine, "terrible" is an exaggeration, but the actor--Ciaran McMenamin--who plays adult David is tragically miscasted. Not only is he much too old, he is also too tall, and looks too much like a man to play Dickens's favorite child. Apart from physicality, McMenamin doesn't seem to understand the character of David at all. David is not impatient and down-right bland, he is charming, passionate, and thoughtful, albeit foolish and immature.
I now know how the disapproving
Twilight
fangirls felt about Robert Patterson when the movie trailer came out. He is not the Edward they imagined. McMenamin is not my David.
There is a scene that turned me completely off. It is when David proposes to the girlishly incompetent Dora. Dora is also completely miscasted. She is played by an actress named Joanna Page, who looks a few years too old for Dora. I think the only reason she was cast was because she was shorter than everyone in the cast. She handles Dora's childish antics like a grown woman pretending to be girlish. So when David passionately (more like violently) stomps into the room and is about to ask Dora for her hand in marriage, Dora's dog Jip starts barking furiously.
The David I know would just have let Jip bark and try to talk over the barks, even though he
is
trying to make an important statement. That is part of the charms of David. I think if David tries to propose to Dora while Jip is barking and Dora keeps misunderstanding David's words, it would have been a wonderful comedic opportunity. But do you know what McMenamin's David does instead? He yanks Jip away from Dora's side and stomps out of the freaking room and probably locks Jip up somewhere since we (the audience) clearly can't hear Jip anymore. That is
not
what Dickens's David would have done. Maybe this is not entirely McMenamin's fault, but David would never forcefully yank Jip away from Dora.
Director Simon Curtis and screenwriter Adrian Hodges should know better.
Another scene that frustrates me is when David finds out from the doctor that Dora has had a miscarriage. His tone and the expression on his face is so cold that Tom Wilkinson's narration seems too warm in contrast. This is certainly McMenamin's fault. David is not supposed to be cold, at all.
Then there is the casting of Agnes, which is the epitome of awful. Agnes is played by an actress by the name of Amanda Ryan. She looks
much
too old to be casted as Agnes. She even looks much older than McMenamin, so it looks like she
is
David's sister--his older sister, of course. Plus, there is no chemistry at all between McMenamin and Ryan. The relationship between David and Agnes makes up several of my favorite scenes in the novel because it's so innocently sweet and strangley romantic. But in the film, it just seems like David marries Agnes just because Dora's dead and he wants company. There should have been more David and Agnes scenes because the book, even with all its crazy subplots, is a love story at heart. So, um, lame.
In the end of the film, McMenamin wears a mustache to show that David has aged. Yes, he literally wears a mustache because there is no freaking way that the mustache is real. It's the fakest cinematic mustache I've ever seen in my life.
What I kind of hated is that it seems to show that Steerforth kind of likes and flirts with Rosa Dartle. Their relationship in the novel appears to be completely one-sided. Rosa is deeply in love with Steerforth, but can't seem to act on her passion. Steerforth kind of excuses Rosa's affections. But in the film, it shows sort of a lame love-hate teenage-like relationship (and in the book, it's
much
deeper than that) on Rosa's part and Steerforth is sort of a lovesick boy when he appraoches Rosa. That's so wrong.
But I have to say, Oliver Milburn and Clare Holman are the best-casted actors in the second part. I may disagree with the portrayal of their characters but I cannot disagree with how these actors handled the material.
There is Uriah Heep, who is totally underwritten in the film. He isn't menacing or particulary interesting at all. He just gives evil stares from time to time. There is no hint that he's trouble. The actor who plays Heep--Nicholas Lyndhurst--tries his best, but he is never "umble" or devilish enough to convince me that he's the Heep I read between those pages.
I should re-cast all the parts I hated for my next post. Ha. That sounds like a good idea.
So I like the first part and kind of hate the second part. Come on, Hollywood. We need an elegant, refined epic film adaptation of my favorite book. Get Alfonso Cuaron to direct it. Make it look like it was made with at least a million bucks. Cast actors who actually fit the parts. An epic
David Copperfield
will be a dream come true.
I don't care if the book is supposed to be better. I'm fine with small changes, as long as it works. There have been many great book adaptations over the years. So why can't
David Copperfield
be one of those great adaptions as well?
A new David Copperfield movie is in the works and will probably be released in 2009. The last time I checked, there was an open profile of it on IMDb, but now I can't view the information without IMDb Pro. Weird. But the cast I saw included Julie Walters, Colin Firth, and Rowan Atkinson. There were rumors swirling on the message boards that Hayden Christensen had been cast as David Copperfield, which is probably the biggest miscast of the century. I believe it is going to be helmed by
Johnny English
director, Peter Howitt. Comedy? Please...
no
.
Rating: 6/10